Equal Opportunity Employer
Riverside House is a federal contractor and provides equal employment opportunity to all persons without regard to race, color, religion, national origin, gender, age, veteran status, disability, or any other protected classification under Federal, State, or Local Law.
The following job opportunities are available
Schedule: 5 days a week, variable shifts. Facility works 24/7
Salary: Will be discussed at the interview
Responsibilities: The Resident Monitor will work with federal inmates in our program. Candidate will follow agency procedure, will conduct alcohol and drugs testing urinalysis and will be accountable for general monitoring of residents and facility.
Education/Experience: High School diploma required
Schedule: Variable shifts 5 days a week- Facility works 24/7
Salary: Will be discussed at the interview
Education and / or Experience:
Minimum a Baccalaureate Degree in behavioral or Social Sciences and have a demonstrated professional ability to evaluate behavior through written Communication. Case Management Certification preferred.
Bi-lingual in English and Spanish preferred.
Responsibilities:
The Senior Case Manager participates in the process of assessing, planning, implementing, coordinating, communicating, and evaluating residents to meet specific needs to promote the highest quality of service and the smooth transition of residents in the most appropriate setting.
Applicants will work directly with federal inmates within our program. Applicants will follow all agency procedures and policies.
Essential Duties and Responsibilities:
Staff Supervision
Directly supervises the Case Managers – currently (5)
Personally manages a case load up to a maximum of (30) residents per current SOW
Assigns residents to Case Managers at a case load maximum of (30) residents per Case Manager
Conducts employee training, planning, assigning and delegating work, and appraising performance, addressing complaints and resolving problems.
Maintains open communication with the staff regarding daily caseloads, case review and coverage of workload.
Submits all necessary evaluations, records, reports, correspondence and statistical information.
Assist the Program Director in providing oversight of the resident management system.
Uses broad knowledge base and sound judgment skills to answer staff questions.
Initiates and conducts group conferences to plan and discuss programs and policies related to assignment of quarters, social and recreational activities, and dormitory living.
Resident Support
Ensures all required intakes, risk assessments and Individualized Program Plans are completed per schedule and in accordance with the current FBOP Standard of Work (SOW), ACA and PREA Standards
Plans and directs program to orient new residents and assist in their integration into society.
Interviews all residents to determine counseling needs.
Conducts weekly and bi-weekly meetings with residents as assigned.
Conducts audits of resident files with submission of findings to the Program Director.
Collects and records subsistence monies from residents, and coordinates appropriate disposition with Administrative Assistant.
Prepares all required documentations in a timely manner, including but not limited to pass requests, home confinement reports, residents' summaries/terminal reports, etc.
Suggests remedial or corrective actions and assists residents in making better adjustments and in planning intelligent life goals.
Manage bus pass program
Maintains and encourages proper boundaries between residents and staff.
Investigates reports of misconduct and attempts to resolve or eliminate causes of conflict.
Regulatory
Follows all state, federal and organizational policies and procedures.
Advises administration of challenges and seeks guidance when appropriate.
Attends all designated meetings.
Maintains contact with all referring agencies.
Contacts outside agencies and resident employers as required.
Submits required documentation to the supervisor/manager within the designated time lines.
Other 
Other duties that may be assigned.
Schedule: Variable shifts – Facility works 24/7
Salary:  Will be discussed at the interview
Education and / or Experience:
Associate degree in Human Service preferred or a minimum of two years' experience in related field.
Responsibilities:
Reviews paperwork with the Facility Director and ask appropriate questions in order to accomplish goals and objectives for the coming week.
Conducts home site visits (per week) in organized manner, with timely documentation.
Conducts work site visits (per week) in organized manner, with timely documentation.
Submit in a timely manner mileage expensive report(s) to the Facility Director or his/her designee.
Responsible for accurate and complete reports and record done on a timely basis.
Ensure Riverside House dress code is observed at all times.
Serves as support agent to other program staff and to Employment Specialist. When requested, perform on site employment verification during the first seven calendars of a client acquiring a job. Might be requested to perform sponsor site visits. Implemented all phases of work release, including site verification, employer contract, computer entries, etc.
Contribute to team management approach of residents through communication, cooperation, and assistance in other department areas (including staff coverage).
Perform other duties as assigned by the Facility Director.
Bilingual (English and Spanish) Preferred
APPLY NOW
Employee Benefits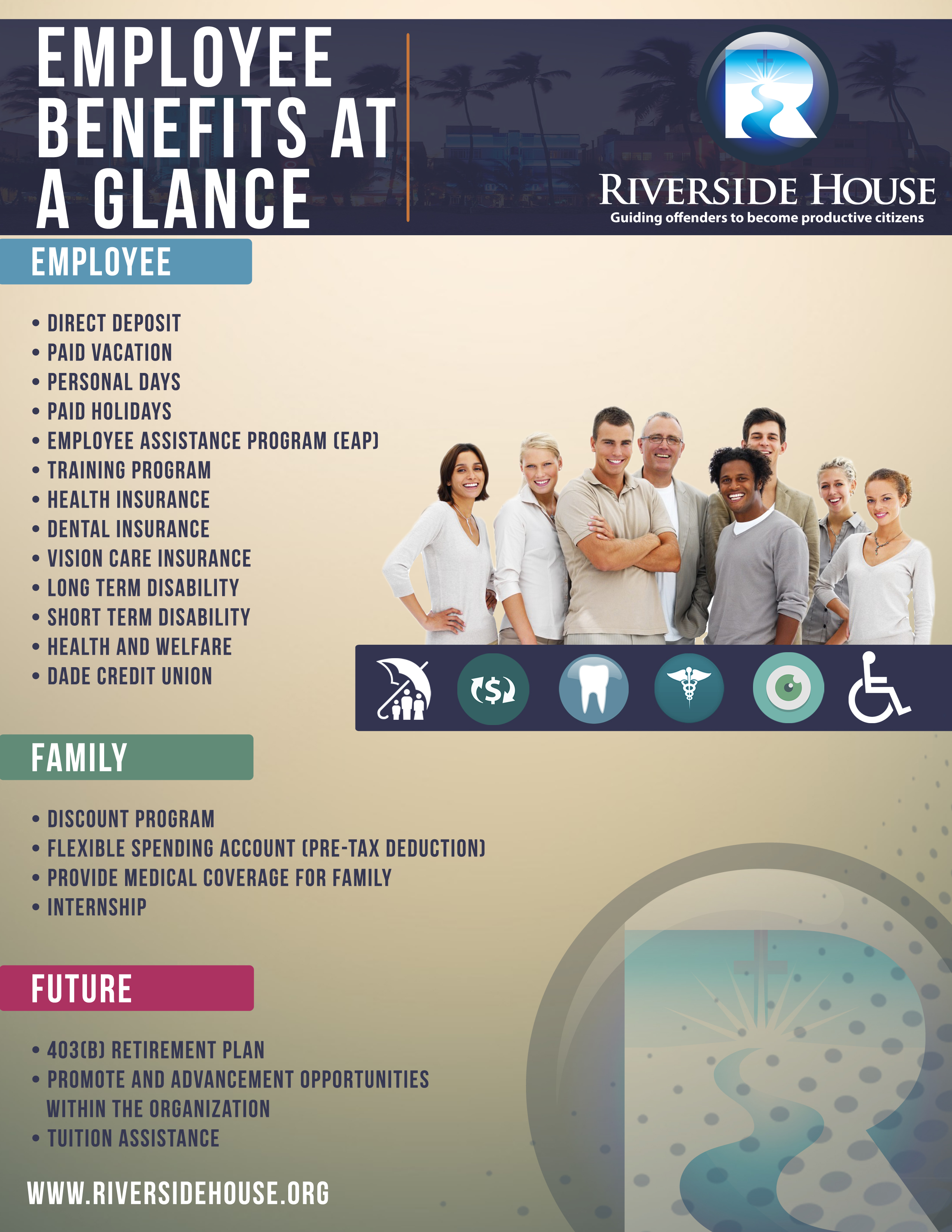 THE JOURNEY IS THREE STEPS AWAY

BY PHONE
Talk with an expert and learn how to overcome legal and economical barriers.

BY EMAIL
Ask questions about our program and services.
It's FREE!

BY APPOINTMENT
Schedule a meeting to review your needs and challenges.
Consultation is FREE!